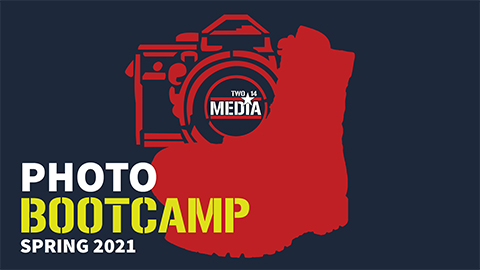 Photo Bootcamp - Spring 2021
Saturday, March 27, 2021 - Sunday, March 28, 2021 from 8:00am - 5:00pm
Days till photo bootcamp - spring 2021: 802 days ago
location:
Two14 Media
2300 Rotary Park Dr
STE A
Clarksville, TN 37043
www.two14media.com
Instructor(s):
Gary Stonesifer

Two 14 Media
2300 Rotary Park Suite A
Clarksville , TN 37043
https://two14media.com/

Photo Bootcamp - Spring 2021 Details:
---
YES! Photo BootCamp is the most efficient way to learn a solid photography foundation.
So, you have one of those expensive cameras with all the bells, whistles, and so many settings you don't know where to start.
Have you read the manual cover to cover, leaving you confused?
Have you trudged through countless hours of online videos, only to be left with more questions and feel your time was wasted?
It never fails. You pick up your camera, you get frustrated, and put it down when you see the snapshots on the tiny LCD screen. 🤯
🤫 Can we tell you a little secret?
Your camera isn't "the Creative." YOU are!
🎉 It's okay! Each one of us has been in your shoes at one point or another.
We were also overwhelmed by learning the technology and techniques to take great photos. All we wanted to do was take photos. Therefore, we decided to put what we have learned into practice and developed Photo BootCamp for you.
Photo BootCamp is here to end your frustration.
We won't let your "high-tech" camera keep you from creating images you love.
Photo Bootcamp is designed to be the first step in an exciting journey to becoming a master of photography.
😃 We have your back!
Get out of "Auto" modes in one convenient course!
➡️ Learn through simple and easy-to-understand step-by-step in-person instruction!
➡️ Learn to quickly navigate through many of the necessary functions of your camera!
➡️ Learn basic techniques and skills of digital photography, giving you the confidence to take photos that wow!
🤗 We Guarantee you will quickly increase your creative abilities and make photos that you will be proud to show off.
Once you are finished, you will have a foundation to confidently take photographs in manual modes, maximizing your camera's power.
Many of our students have either started their own photo businesses or continue working with us to develop their skills and experience.
This course is intended for beginners or serious hobbyists - we do welcome advanced photographers who want to refresh on the basics.
This information-packed course is only $149.99
INCLUDES:
✅ Breakfast/Lunch/Snacks/Drinks (Both Days)
✅ 2 Days of Hands-on Classroom Instruction
✅ Live Model Sessions
✅ 5 in 1 Light Reflector
✅ Access to our Photo Support Network
👍 Ages 10-99, - WELCOME!
👍 Any camera brand - WELCOME!
If for whatever reason, you are not satisfied, we offer a 100% money-back guarantee.
‼️ LIMITED seats are available, register today‼️
This photo bootcamp - spring 2021 has expired